Food Waste
By most estimates, a quarter to half of all food produced in the United States goes uneaten. Produce may be left in the field, discarded during processing or packing, become spoiled during transport, or thrown out by grocery stores. At home, people throw out all kinds of spoiled and unspoiled food. Most people don't realize how much food they throw away and how much money it cost them.
Throwing out food wastes natural resources (the air, water, soil and energy used to produce and transport the food) and also wastes your money. Waste less food and help the environment and your wallet!
In 2017 a law was enacted in New Jersey with the goal of reducing the amount of food waste generated in our state by 50 percent by the year 2030. To this end, the NJ Dept. of Environmental Protection drafted a food waste reduction plan and developed a website.
The following tips can teach you how. For more information, consult the web sites and books (available in the Mercer County Library System) listed below.
Tips to Avoid Wasting Food
Plan meals before shopping, take stock of what ingredients you already have and whether you will have the time or inclination to cook.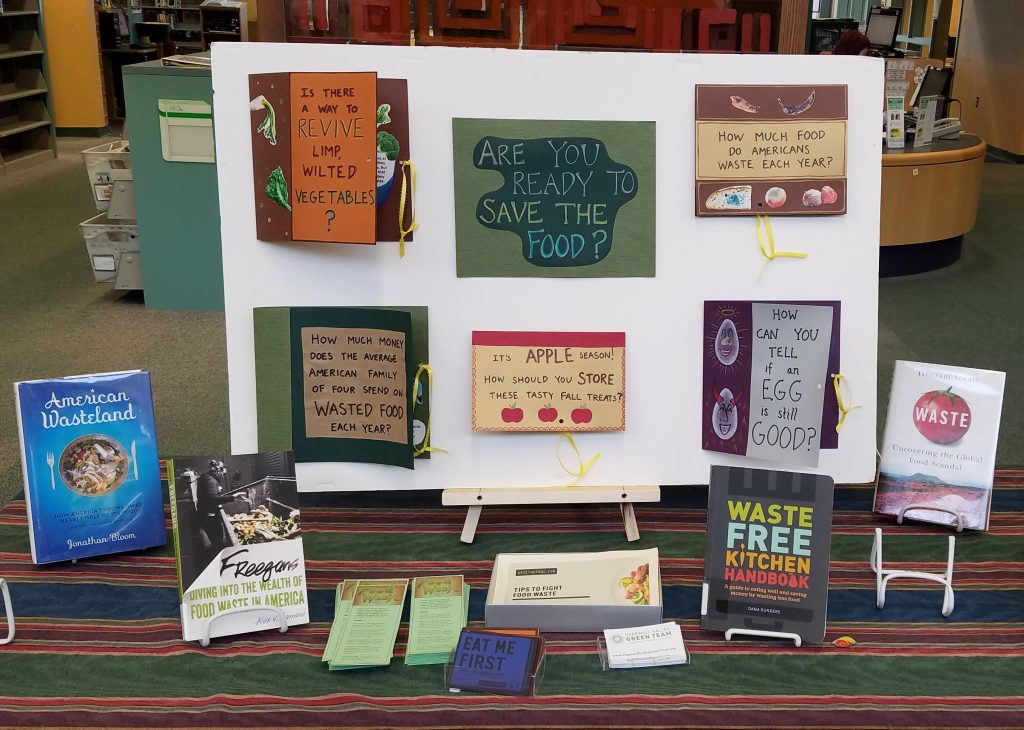 More Information
"American Wasteland: How America Throws Away Nearly Half of Its Food (and What We Can Do About It)" by Jonathan Bloom (2010).
"Waste: Uncovering the Global Food Scandal" by Tristam Stuart (2009)
"Waste-Free Kitchen Handbook: A Guide to Eating Well and Saving Money By Wasting Less Food" by Dana Gunders (2015)
"Eat It Up!: 150 Recipes to Use Every Bit and Enjoy Every Bite of the Food You Buy" by Sherri Brooks Vinton (2016)
"Freegans: Diving Into the Wealth of Food Waste in America" by Alex V. Barnard (2016)
"The Waste Not, Want Not Cookbook: Save Food, Save Money and Save the Planet" by Cinda Chavich (2015)
"Cooking Green: Reducing Your Carbon Footprint in the Kitchen—The New Green Basics Way" by Kate Heyhoe (2009) See Chapter 9: Waste Not: At Home, at Stores, in Restaurants
"The Lost Art of Feeding Kids: What Italy Taught Me About Why Children Need Real Food" by Jeannie Marshall (2014)
"Composting: Turn Food Waste Into Rich Soil" by Brian Hanson-Harding (2014)
"Composting Basics: All The Skills and Tools You Need To Get Started" by Eric Ebeling (2017)
"Just Eat It: A Food Waste Story" Documentary DVD (2014)
New Jersey DEP information at: https://www.nj.gov/dep/dshw/food-waste/
NRDC Save the Food at: https://www.savethefood.com/
StillTasty Your Ultimate Shelf Life Guide at: http://www.stilltasty.com/
EPA Reducing Wasted Food at Home: https://www.epa.gov/recycle/reducing-wasted-food-home